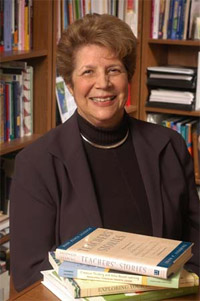 Who:
Joan Packer Isenberg
B.A., Early Childhood Education, Wheelock College
M.Ed, Early Childhood Education, Wheelock College
Ed.D., Elementary Education, Rutgers University
A former preschool, primary, and elemetnary school teacher and administrator in public and private organizations, she's done it all. She's written 12 books, one of which she co-authored with Marly Jalongo. She's been a visiting scholar for the National Board of Professional Teaching Standards. She's even been president of the National Association for Early Childhood Teacher Educators (NAECTE). In 2006, she received the NAECTE Pearson/Allyn & Bacon Outstanding Early Childhood Teacher Eductor Award. Wow.
She is Dean and Professor of Education at George Mason University. She continues to study creative expression in young children and teacher quality through narrative inquiry among other research methodologies.